Colorado Tech Tour Day 2: Wrapup Video
Frisco / Vail
Tuesday, August 2

The Rocky Mountains are filled with eclectic towns that carry their own personalities and attract tech professionals who want a different lifestyle. That's why we're making three stops in two towns – Frisco and Vail – to visit entrepreneurial spaces where the community works, connects and learns. All day we'll be talking about and sharing stories of how vital STEM education is, no matter your age, to Colorado's success.
PUBLIC EVENTS

TECH TALKS + TOUR: EVO3 Workspace
9:30 – 10:30 am
EVO3, Frisco
EVO3 Workspace creates an environment that fosters innovation and ideation in a world where the only constant is change. As more people start businesses and personal projects, or telecommute and opt for flexible arrangements with their employers, this collaborative movement is encompassing how we work.
Moderator: Aaron Landau, Founder / Managing Director, EVO3 Workspace
Panelists:
Owen Fallon (2nd Grade), EVO3 Workspace Intro to App Dev student
Eamonn Fallon (5th Grade), EVO3 Workspace Intro to App Dev student
Brian Foster, EVO3 Workspace coding school student
TECH TALKS + TOUR: ELEVATE
Lunch Provided
11:00 am – 12:30 pm
ELEVATE, Frisco
ELEVATE Frisco will wow you. It's an inspiring, stunning space with vaulted ceilings, log beams and a creative vibe. It's more than a shared workspace, it's a community of entrepreneurs, innovators, tech geeks and badasses who want to elevate the way they work, live and play.
Moderator: Amy Kemp, Elevate coSPACE
Program:
Outdoor Rec Tech discussion 
Educational programs / Full Stack + panel  
Tech company lightning round/2-minute pitches 
Panelists:
Brian & Michelle Flickinger, Threadlyte
John Snook, Colorado Avalanche Information Center
Mark Mulrooney, Micrium
Jason Rush, Panda Strike
Nick Frey, Boo Bicycles
Lucas & Kristin Miller, In Motion Albums
PRIVATE EVENT
TECH TALKS + TOUR: BaseCamp for Entrepreneurs at Vail Centre for Entrepreneurship
1:30 – 2:30 pm
BaseCamp for Entrepreneurs, Vail
This co-working facility combines people, thinking and resources in a collaborative environment with the goal of boosting the performance of individuals and organizations.
If interested in learning more about any of the day's events, please contact Matt Wendel at matt@coloradotechnology.org or 720-382-5923.
Growing Colorado's Regions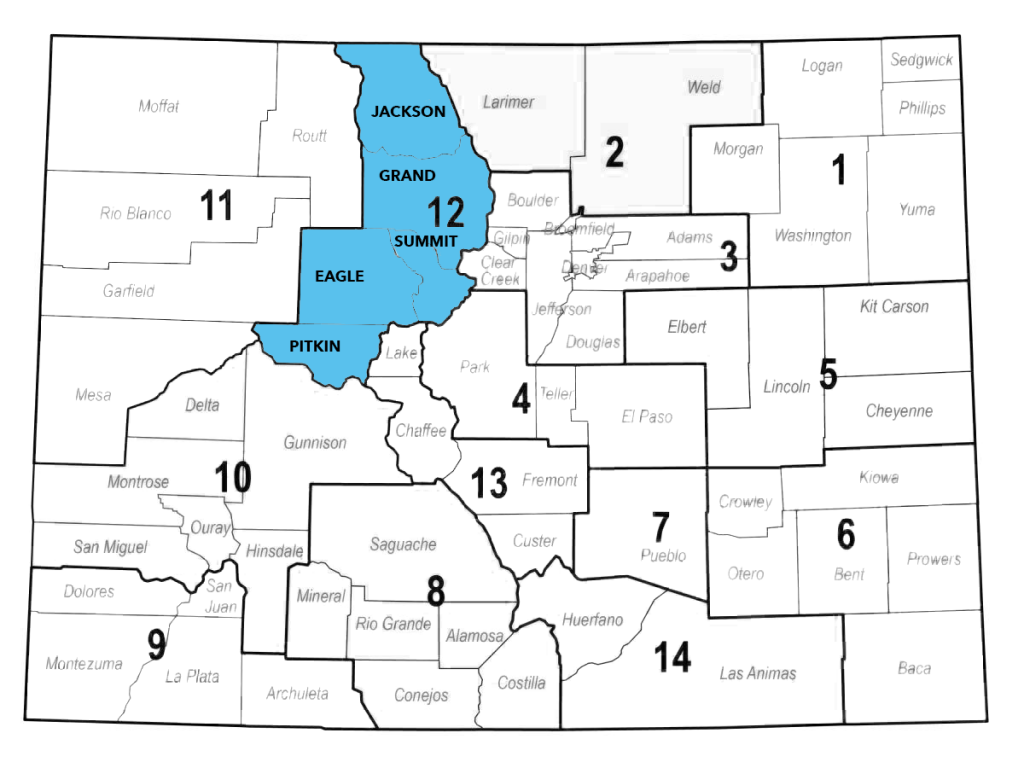 Colorado OEDIT has taken an inventory of national best practices on regional, asset-based economic development and is identifying additional opportunities to leverage available resources as a way to advance the regional economic development priorities identified by local partners. Learn more about Colorado's 14 regions and contact Senior Regional Manager Meridith Marshall with questions or to get involved.
We'll be stopping at Region 12 – including Jackson, Grand, Summit, Eagle and Pitkin counties – on Tuesday, August 2nd. Read up on the region through its strategic summary.