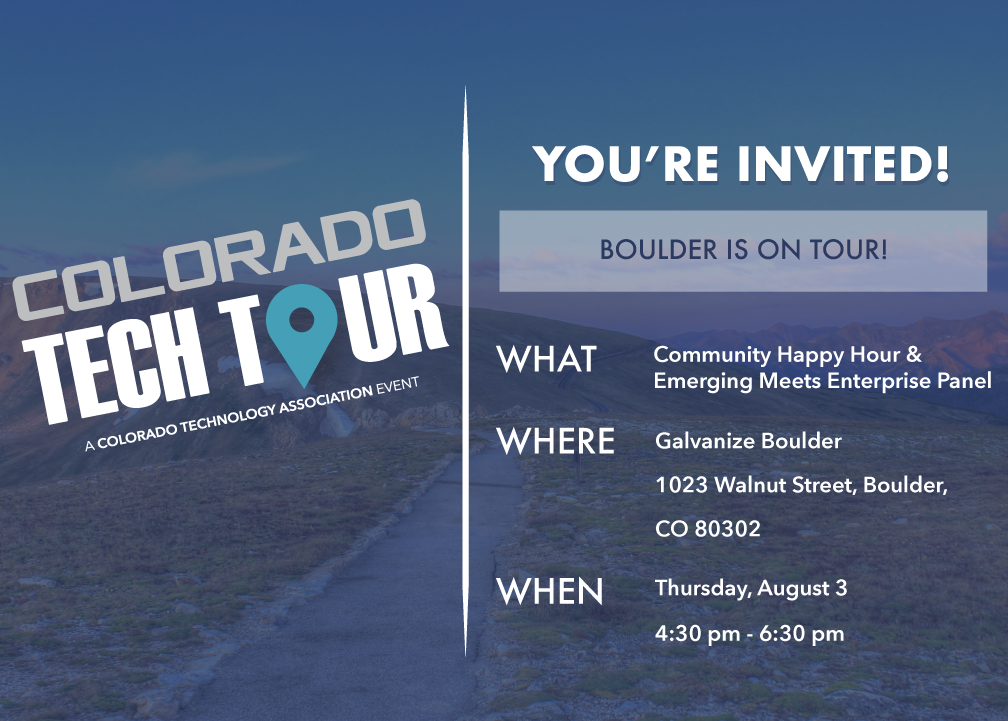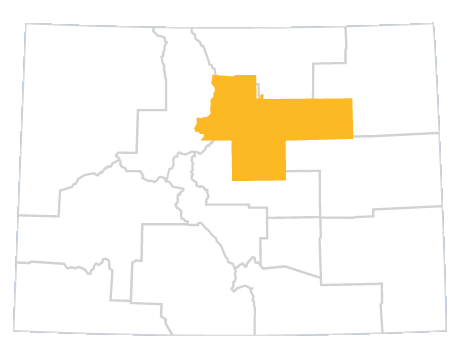 Consisting of nine booming counties, the Denver region is globally recognized for its culture of innovation, arts and outdoor recreation. It has access to one of the best airports in the country, a major transit infrastructure, highly rated education system and numerous federal laboratories across a variety of leading industries.
BOULDER
THURSDAY, AUGUST 3
Tech Tour Boulder // Community Happy Hour & Emerging Meets Enterprise Panel
DATE/TIME: Thursday, August 3 | 4:30 – 7:00 PM
LOCATION: Galvanize Boulder | 1023 Walnut Street | Boulder, CO 80302
Colorado Tech Tour rolls into Boulder on August 3 to gather two groups within our tech community that can do incredible work together – emerging tech and enterprise companies.
Business gets done when emerging and enterprise companies collaborate and complement each other's strengths. The panel discussion calls on experienced and promising CXOs to dive deep into where the two worlds can meet, and how all of us in tech can benefit. Get the download from those finding success in seeking out partners and pulling new ideas into their teams.
PANEL MEMBERS
Anke Corbin, Founder & CEO, Globig
Stewart McGrath, CEO, section.io
David Roberts, CEO, ReedGroup
Drew Torbin, CEO, Black Bear Energy
Robert Urwiler, CIO, Vail Resorts
Jack Waters, CTO and President of Fiber Solutions, Zayo
MODERATOR
Nicole Casanova, CEO, Casanova Ventures 
4:30 PM – 5:00 PM Happy Hour & Networking
5:00 PM – 6:00 PM Meet the Board Panel Discussion
6:00 PM – 6:30 PM Happy Hour & Networking Continues
Tech Tour Boulder // Closing Breakfast and Panel Discussion
Boulder has a compelling story as a hub for innovation that grew out of private and public collaboration. The tech community has spurred remarkable economic growth for the region and in turn become a standard bearer for cities wanting to attract entrepreneurs and create an ecosystem that supports them. At the last stop on Colorado Tech Tour, our panel will tell this story and uncover ways Boulder can continue its impressive growth.
DATE/TIME: Friday, August 4 | 8:45 – 10:30 AM
LOCATION: Zayo | 1805 29th Street | Suite 2050 | Boulder, CO 80301
PANEL MEMBERS
Kay Henze, SVP, Zayo Dark Fiber – Rocky Mountain Region
Heather Terenzio, Founder, Techtonic Group
Aaron Brockett, City Councilman, Boulder
MODERATOR
Clif Harald, Boulder Economic Council
8:45 – 9:05 AM Registration and Networking
9:05 – 10 AM Panel Discussion
10 – 10:30 AM Tour of Zayo and Networking