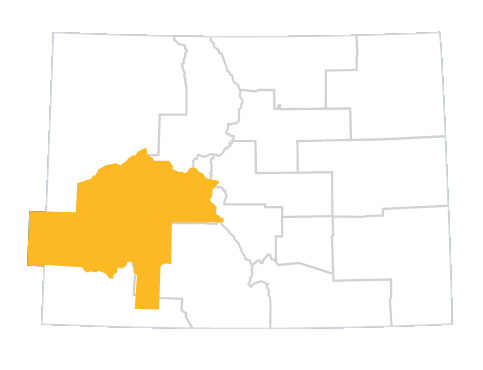 REGION 10: CENTRAL WESTERN SLOPE
Celebrated for its spirit of community support and innovative collaboration, the Central Western Slope region is a geographically diverse area with unparalleled access to equally diverse outdoor recreational activities. 
MONTROSE
Wednesday, August 2
Tech Tour Montrose // Community Lunch and Panel
DATE/TIME: Wednesday, August 2 | 11:30 AM – 1:30 PM
LOCATION: The Bridges, 2500 Bridges Drive, Montrose, CO 81401
Colorado Tech Tour is making a stop in Montrose — and for good reason! The Central Western Slope boasts a thriving tech community that won't go unnoticed. Montrose is winning over a diverse group from the tech industry, with startups, emerging and established companies all planting their roots.
Join the tech community in Montrose for a lunch and panel discussion on the evolution of the city's tech ecosystem.
Moderator
Denis Lankes, Proximity Space
Panelists
Cory Warfield, ShedWool
John Fay, Lada Cube
Josh Freed, Proximity
Craig Baker, Colorado Outdoors
Toby Houchens, Travel Recon
11:30 AM – 12:00 PM Networking
12:00 PM – 1:00 PM Lunch and Panel Discussion
1:00 PM – 1:30 PM Networking
If interested in learning more about any of the day's events, please contact Matt Wendel at matt@coloradotechnology.org or 720-382-5923.